Dentistry seems to be the potential breakthrough industry to manifest many 3D printing enthusiasts' dreams of mass customization, point-of-care delivery, and local manufacturing hub for dental professionals, reducing inefficiency and costs. Over the past several years, 3DHEALS has invited many different stakeholders to share their experiences, ranging from material innovation, and software development, to new clinical workflows. Applications ranging from surgical guides, implants, dentures, and night guards are among the new applications gaining increasing attention either in the startup world or the industry at large, in addition to the existing billion-dollar market of dental aligners. The collective thought is that 3D printing can do more and more in parallel to the maturation of technologies. In this 90-minute webinar, we invite experts with unique perspectives about the current status and near future of dental 3D printing, including international clinicians, startup founders, and industry veterans. For those who are interested in learning more about dental 3D printing, please make sure you read this 3DHEALS Guide before the event.
Apply to speak or sponsor the event: info@3dheals.com
Subscribe here to receive event emails.
Speakers:
Dr Ioanna Gidarakou received her dental degree from the Aristotle University of Thessaloniki, Magna Cum Laude. She then completed her orthodontic specialty at Eastman Dental Center, University of Rochester, NY. At the same time, she received her TMJD degree and completed a 1-year fellowship on genetics at the Pediatric Department, School of Medicine, University of Rochester, NY. She pursued her PhD thesis on Class II growing patients at the Aristotle University of Thessaloniki. Dr Gidarakou has been actively involved in academics, teaching pre- and post-graduate students, giving lectures worldwide and publishing numerous articles in prestigious orthodontic journals. She currently maintains 2 orthodontic practices in Katerini and Litochoro, in Central Macedonia, Greece. She is married with 3 children.
Dr. Gustavo Mendonça is a Professor at the Department of General Practice at the Virginia Commonwealth University. He received his DDS from the Federal University of Uberlandia, Brazil. He also completed his postgraduate training in Prosthodontics and master's degree in Oral Rehabilitation from the same school. In 2008 he finished his PhD in Genomic Sciences and Biotechnology at the Catholic University of Brasília, Brazil. Dr. Gustavo Mendonça is also a Fellow and a Diplomate of the Academy of Osseointegration. Dr. Gustavo Mendonça's research interests focus has been related to the use of CAD/CAM materials and 3d printing for clinical use in dentistry and research applications. He also has worked in vitro and in vivo on the effect of osseointegration of implants and biomaterials. In addition to his research, Dr. Mendonça is dedicated to teaching and mentoring the next generation of dental professionals. Dr. Mendonça is passionate about providing high-quality, patient-centered care and ensuring that his students are well-prepared to meet the challenges of the dental profession.
Iain is originally from Scotland and studied B.Eng. Computer Engineering and Electronics at Napier University Edinburgh. On graduating in 1994, he became a founder of a software company specialising in hardware simulation. He then moved to Denmark in 2004, joining 3Shape back in 2007 to develop 3D scanning and CAD software for the digital workflow in audiology. After completing an MBA at Copenhagen Business School in 2019, he got even closer to the world of 3D printing and material development with joining the 3D printer company Formlabs. Iain is now the CEO of H3D, a SaaS company that has developed a fully automated high volume AI solution that removes the need to use CAD software in the digital dentistry workflow.
Dr. Khaled Kasem has more than 25 years of experience in his field. He currently works exclusively in orthodontics being the chief of orthodontists at Impress while also combining his work at the University of Barcelona as research coordinator in the orthodontic
department. He has studied a master's degree in Orthodontics and has a diploma in advanced techniques in dentistry. He has publications in renowned journals such as the American Journal of Orthodontics & Dentofacial Orthopedics or Photomedicine & Laser Surgery.
Impress is the #1 European digital orthodontic brand. The company was established in Barcelona in 2019, and since then it has revolutionized the invisible orthodontic sector with the best team of professionals specialized in making people smile and the latest technology applied to the diagnosis, treatment, and follow-up of all cases. In 4 years, Impress has managed to position itself as the European leader in the orthodontic sector with its award-winning invisible orthodontic treatment.
After raising $125 million earlier in 2022, the funding was earmarked to further expand its presence across Europe, as well as propel the orthodontic experience further into the digital realm. Impress is currently present in more than 160 cities in 8 different countries: Spain, Portugal, Italy, United Kingdom, France, Ukraine, Germany and the United States.
Global Market Development Lead – HP Personalization & 3D Printing
Gino Balistreri is engaging with organizations in the dental and medical industry to increase the rate of additive manufacturing adoption, particularly focusing on orthodontic production applications using HP's Multi Jet Fusion 3D printing technology. Driven by his dedication to healthcare and his mission to enhance quality of life through new technology, Gino has successfully steered cross-functional teams to grow strategic customers to high-volume additive production in fleets with HP's 3D printers.
Prior to leading a team in developing production applications, Gino served as a Global Product Manager, where he effectively led teams in launching products that automated key steps in scaling MJF production at HP's largest customers across various industries.
Gino pursued his studies at universities in the Netherlands, Hong Kong, and Mexico, obtaining an MSc and BSc in Industrial Engineering and Management from the University of Twente.
Moderator: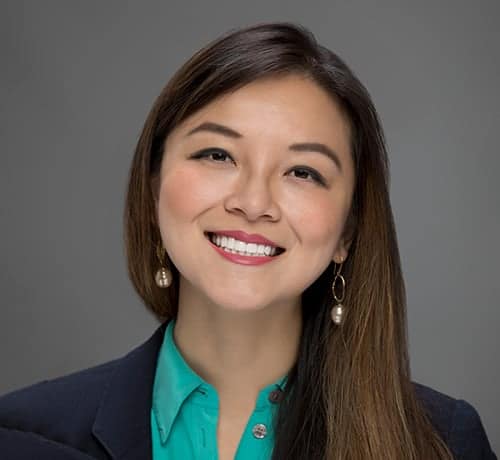 Dr. Jenny Chen is trained as a neuroradiologist, and founder/CEO of 3DHEALS. Her main interests include next-generation education, 3D printing in the healthcare sector, automated biology, and artificial intelligence. She is an angel investor who invests in Pitch3D companies.
Sponsor: