Are you ready to revolutionize healthcare from the comfort of your screen? We're thrilled to invite you to an exceptional virtual event that's set to reshape the way we think about Point of Care Additive Manufacturing! In this upcoming virtual event, we will not only continue to highlight 3D printing applications but also will broaden our perspectives on how it can be seamlessly integrated into existing healthcare systems and other 3D technologies like AR/VR, and virtual surgical planning. The invited speakers are from three different continents, bringing us insights, experiences, and inspirations with their unique lenses to the 3D world.
Don't miss this unparalleled opportunity to join us live!
Apply to speak or sponsor the event: info@3dheals.com
Subscribe here to receive event emails.
Speakers:
After his masters in biomedical engineering and his PhD in biomaterials, Erik started his career in medical 3D printing as Product Specialist for Mimics (medical image processing software) at Materialise in 2007. In 2010 he spent one year in Kuala Lumpur, Malaysia for Materialise to build the sales and support team for APAC. Back in Materialise Headquarters in Belgium, he assumed the role of Marketing Manager for the Mimics Innovation Suite. In 2012, Erik joined the startup Xilloc as its Chief Operations Officer. Xilloc designs and manufactures custom-made medical devices and was a pioneer in using 3D printing for implants (we made the world's first complete 3D printed titanium mandible). In his role as COO, Erik was mainly responsible for sales, marketing and quality management and he built a QMS for ISO 13485 from scratch and got it certified. After nearly a decade, in 2021 he decided to take the plunge and start his own company QasE3D (pronounced as Case-three-dee) as a consultant for Quality Management and 3D printing. He currently helps medical device companies and PoC facilities to implement a digital QMS for ISO 13485 and acts as an agent for several companies with innovative 3D technology to help surgeons.
Jay is the co-founder and President of ImmersiveTouch, a pioneer in augmented reality clinical intelligence & surgical navigation software. Jay is responsible for running all facets of the business and has a proven executive management track record driving growth and innovation in healthcare. He is a advocate for improving patient care and enhancing physician capabilities, an accomplished speaker, and a contributor to publications such as Forbes and Business Insider. He recently completed a certification in Economics of Blockchain and Digital Assets from The Wharton school. Prior to joining ImmersiveTouch in 2014, Jay was a project manager at JPMorgan Chase and Co. and a business consultant at Illinois Business Consulting. Jay holds a BS in Industrial Engineering, Finance, and Economics from the University of Illinois at Urbana-Champaign and an MA in Consciousness and Human Potential from Maharishi International University.
Shannon Walters navigates this world with a passion to seek practical applications of knowledge and technology. As Executive Technical Director at the 3D Quantitative and Imaging Laboratory he leads a team approaching 40 people to apply this passion in the medical image processing realm. With an educational background in Radiology Management and Information Systems, he routinely seeks synergies that link the needs of clinicians/radiologist to the capabilities of technologists. With more than 17 years of experience dedicated to 3D Imaging, Shannon has a unique perspective regarding 3D Imaging software and 3D Printing.
Prof. Dr. Rodrigo Salazar-Gamarra DDS, MSc, Ph.D. Is CEO of M3D, and a technological innovation consultant for healthcare, awarded by the MIT Technology Review as "Humanitarian Innovator 2018 for Latin America" for his actions as director and researcher of the "Plus Identity Institute (+ID)" in Brazil. Associate researcher at the "Renato Archer TI Center (CTI)", from the Ministry of Science & Innovation of Brazil. Professor at the Postgraduation School of the "Universidad Peruana Cayetano Heredia (UPCH)" , Maxillofacial Prosthodontics professor at the "Universidad Cientifica del Sur(UCSUR)", and Digital dentistry teacher at the "Universidad Peruana de Ciencias Aplicadas(UPC)" in Perú. Volunteer at the Digital Digital Transformation Laboratory of the Digital Government Secretariat of the Presidency of the Council of Ministers (PCM) of Peru. Former IAA President, VP of the Latin American Society of Maxillofacial Prosthodontics, and member of the Digital Dentistry Society.
Chris LeCastillo is the Innovations Manager for the Stanford 3D and Quantitative Imaging Laboratory, helping lead a team of nearly 40 under Shannon's directorship. His extensive background in IT, 10 years in the medical field as a Radiologic Technologist, and education in Imaging Informatics and Health Leadership help him drive forward meaningful innovations in the 3DQ Lab like 3D Printing and Clinical AI. Chris also manages the XR Neurosurgical Navigation program at Stanford.
Moderator: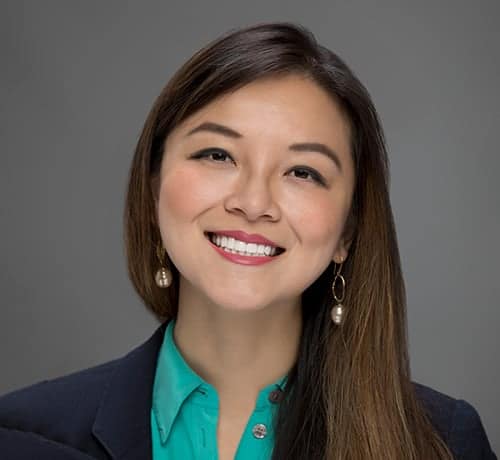 Dr. Jenny Chen is trained as a neuroradiologist, and founder/CEO of 3DHEALS. Her main interests include next-generation education, 3D printing in the healthcare sector, automated biology, and artificial intelligence. She is an angel investor who invests in Pitch3D companies.
Sponsor: