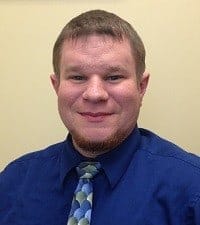 Tim Fair is an FL Licensed and ABC Certified Prosthetist Orthotist and academic chair for the A.S. O&P Technology program at St Petersburg College. He earned his master's degree in Instructional Design and Technology in 2016, his bachelor's degree in Orthotics & Prosthetics in 2006 from UTSouthwestern. He has been actively involved in O&P Technician, Pedorthic, and Orthotic Fitter education since his arrival at St Petersburg College. His current focus is on orthotic fabrication education for O&P technician students. Tim will be speaking at the upcoming 3D Printed Orthotics and Prosthetics webinar.
Jenny: When was the first encounter you had with 3D Printing? What was that experience like? What were you thinking at that moment?
Tim: My first real encounter with 3D printing was in 2015 when our program was provided the assets of 3 Markforged M1 printers that were previously used by a program being sunsetted. I initially thought I'm going to need some training to learn about how this process works.
Jenny: What inspired you to start your journey in 3D Printing ?
Tim: The above incident sparked my journey. To expedite our ability to use the printers effectively, we separated the hardware from CAD design tasks between myself and my co-instructor faculty. I focused on learning how the hardware of the printers worked and how slicing the models changed the final outcome and he focused on learning the basics of CAD design and modeling.
Jenny: Who inspired you the most along this journey in 3D Printing?
Tim: I really don't have a specific person that inspired me to continue in 3D printing, it was more a love of the technology and seeing what it could do in comparison to what other traditional methods could not do.
Jenny: What motivates you the most for your work?
Tim: Knowing that at the end of the day, if I teach skills to more than 1 person, my overall influence in promoting proper O&P fabrication methods will expand indirectly beyond what I as an individual can accomplish directly.
Jenny: What is/are the biggest obstacle(s) in your line of work? If you have conquered them, what were your solutions?
Tim: In the formal O&P Education, we have an accreditation document of standards that must be met. Beyond these standards, we have room to teach other things, but the minimum standards take a large chunk of time. The other biggest issue is that our O&P industry, as a whole majority, has not fully accepted digital methods as valid for true everyday patient outcomes (whether that be scanning, CAD design and 3D printing), when compared to the traditional methods of caring for patients.
Jenny: What do you think is (are) the biggest challenge(s) in 3D Printing (or Bioprinting)? What do you think the potential solution(s) is (are)?
Tim: The biggest challenge is the strength of the final device based on how it is printed. This hurdle has already been jumped but will continue to evolve as the technology and materials refine. The secondary challenge is proving to the O&P industry the validity of using 3D printing for patient outcomes. Along with this is that the design process is different to take full advantage of 3D printing strengths. 3D printing in O&P should not just be another way to accomplish the same type of patient outcomes as we did before; if we don't utilize it for more/better, then we are providing a disservice.
Jenny: If you are granted three wishes by a higher being, what would they be?
Tim:
Health for myself and my family
Ability to take care of as many people as possible
Financial stability
Jenny: What advice would you give to a smart driven college student in the "real world"? What bad advices you heard should they ignore?
Tim:
Find the shortest, least costly route, to enter a chosen profession
Know that you are not stuck in the same role for your entire career, so where you enter a profession may not be where you end a career. This is okay.
Related Articles:
Interview with Jordi Tura, CEO Founder of Xkelet
Interview with Brent Wright: 3D Printed Orthotics and Prosthetics
Interview Recording with Victoria Hand Project: 3D printed prosthetics
3D Printing and Neurology Help Prosthesis Acceptance in Children with Upper-limb Reduction Deficiency
Antimicrobial Materials for 3D Printing Medical Devices
A Helping Hand to Those in Need—Improving the World with 3D Printing