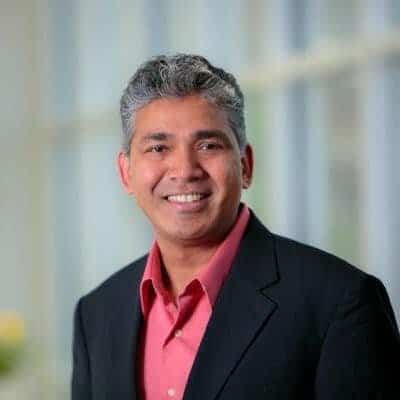 As Head of the Johnson & Johnson 3D Printing Center of Excellence, Sam Onukuri is responsible for integrating 3D printing technology across the J&J Enterprise. He and his team of dedicated engineers drive new materials, processes and software technologies to evolve the business model from what has historically been a product-orientated to a solutions-orientated business model at the point of care. Sam works closely with J&J leaders in Supply Chain, R&D, Commercial, Quality, Regulatory, Legal, and IT across all segments to execute multiple front-end pipelines of technologies related to 3D printing and net-shape technologies. Developing a network of over 50 external partnerships, J&J is emerging as one of the leaders in 3D printing resulting in product design freedom, consumer and patient-specific product personalization, speed to market, supply chain transformation and materials innovation. Sam has over 25 years of experience in medical devices and an extensive background as a metallurgist and in material sciences. Other J&J roles include Advanced/Front-end Technology leadership for J&J Medical Device and Senior Fellow Engineer within the Ethicon family of companies. Prior to J&J, Sam worked at General Electric and Baxter Healthcare. He is based in Cincinnati, Ohio at the Ethicon Campus. Sam will be the keynote speaker for 3DHEALS2020 and will also be a panelist at the 3D printing for orthopedics panel.
Jenny: What inspired you to start your career in healthcare 3D printing?
Sam: Growing up in India, I was intrigued by technologies that had the potential for a global impact, and now I have been in the medical device industry for almost 30 years and with Johnson & Johnson for 23 years. As the largest healthcare company, we are in a unique position to integrate 3D printing into meaningful applications for our medical device, consumer health and pharmaceutical businesses. The potential of 3D printing and additive manufacturing technologies to change the trajectory of human health makes me truly excited to be part of this incredible industry.
Jenny: What motivates you the most for your work?
Sam: One word – People. It's the people I work with every day, the patients and customers who I may affect long-term with innovative products and solutions. Whether it is the inspiration 3D printing technology brings to my team of engineers and scientists, or the transformation of how we deliver smarter health to people across the globe using this technology… I am motivated by both the people who create and the people who benefit from 3D printing solutions.
Jenny: What do you think is (are) the biggest challenge(s) in 3D Printing/bio-printing? What do you think the potential solution(s) is (are)?
Sam: Specifically, with bioprinting, there is still a lot of hype in the media and across the internet. While bioprinting holds promise to create new ways to produce and repair biological tissue, challenges remain in bringing commercially viable tissue products from both a technological and a regulatory perspective. While those challenges are not insurmountable, it will take time, as bioprinting is new and rapidly evolving. We all need to be cognizant of the appropriate advance of science.
Jenny: If you are granted three wishes by a higher being, what would they be?
Sam: I would wish to be able to touch and heal every human being on earth, unrestricted funding to advance science enough to change the trajectory of human health and, selfishly, long life to bring innovation to all people for a longer time.
Jenny: What does the word "3DHEALS" mean to you? =)
Sam: I love the word 3DHeals. 3D printing potentially promises to bring transformational health to all patients and customers and this word truly bridges the technology to impact human life.
Related Articles:
Metal 3D Printing to Biofabrication: Interview w/ Dr. Herderick
Engineering Vasculatures: Interview w/ Dr. Jordan Miller
Bioprint Heart Components: Fluidform3D CEO Mike Graffeo
From Academia: 3D Printed Pills, 4D Printed Structure, and how to property 3D print Chocolate