Titanium as implant material has already been used in dentistry for several decades. However, its use for dental restorations has been limited due to several reasons, but primarily due to difficulties related to its fabrication. 3D printing combined with anodization opens up new prospects for the application of titanium restorations.
Traditionally, titanium restorations were produced by casting. However, proper fabrication of titanium restorations by casting requires a higher level of technical competence, as well as more expensive equipment and supplies compared to the ones made from CoCr (Cobal-Chrome). Lack of appropriate competence, equipment, and supplies might result to quality problems. Such problems could be overcome by producing restorations by CNC milling instead of casting, which increases cost.
In parallel, expectations of patients have also continuously increased, especially in the field of esthetics. Nowadays, patients prefer whiter and more natural-looking teeth, therefore the use of gray-colored metal structures (like that of Ti and CoCr) is no longer ideal by everyone. These led to limited use of titanium restorations vis-à-vis CoCr ones (with the exemption of implants and abutments which are not produced from CoCr) and from esthetic reasons vis-à-vis the even more expensive zirconia.
In the last decade, there have been substantial developments in dentistry, led by 3D printing. 3D printing generated a revolution and – among others – made possible reliable mass production of titanium restorations. Application of the technology results in higher quality compared to casting, and lower price compared to milling.
These advantageous features of titanium and 3D printing make titanium a 'competitive' alternative to restorations made of CoCr, as well as prosthodontic restorations made by casting and milling technologies.
In addition, the increasing esthetic issues associated with titanium may be relatively easily overcome by a technology called anodization.
The anodization of titanium is a well-known and well-established technology in dentistry and in the medical world. It has been used extensively for color-coding helping visual identification.
Titanium anodization is an electrolytic passivation process that increases the oxide layer on the surface of the titanium. The generated oxide layer gives the perception of color due to an interference phenomenon, similar to a prism. The final perceived color depends on the thickness of the oxide layer. Since anodizing does not require the use of dyes, the oxide layer is biocompatible.
The results of different publications and our experiments demonstrate that anodization can be used successfully in order to improve esthetics by reducing greyness. Furthermore, recent studies show that anodization can be effectively applied to increase osseointegration and therefore functionality of titanium restorations.
In the following part, a few examples are presented, covering both color esthetics and functionality.
Titanium implant bar
Implant bars make part of removable bridges. Such a bridge is regularly removed by the patient in order to clean it. After removal of the bridge, the bar becomes visible for the patient (and eventually even for others). If the bar is anodized (e.g. to rose gold hue) it is in better harmony with the color of the interior of the mouths than a non-colored grey one. In this way, the bar better fits its environment and therefore result to an increased esthetic for the patient.
Titanium framework of removable partial denture
Metal framework removable partial dentures are the most common type of partials. They consist of a metal framework (generally CoCr) that contains artificial teeth set in an acrylic resin. Patients can remove and reinsert them when required without professional help. During these operations, patients are faced with the grey color of the metal framework. In addition, in the case of an upper partial, the grey colored framework might be visible by others. Application of 3D printed titanium frameworks anodized to the color of the palate might decrease esthetic concerns. As a result, the framework gets hidden in the mouth, in addition, it gives a more esthetic view when the partial is removed.
Abutment
Abutments are made of titanium and delivered generally in the natural grey color. However, the grey color of the titanium abutment can be seen through the soft tissue or translucent restorative material. It has been demonstrated by several authors that anodization can be used optimizing the final esthetics. The colored abutment is more easily masked than the non-colored one making it an advantageous option for anterior cases and for patients with thin-tissue biotypes.
Patient-Specific Implants
In the case of patient-specific implants – contrary to the previous examples – anodization can be applied for functional rather than for esthetic reasons. Anodization of dental implants was the subject of several studies. Some interesting conclusions were as follows: The amount of bone-to-implant contact (BIC) is an important determinant in osseointegration, and therefore in the long-term success of dental implants. The osseointegration rate of titanium dental implants is related to their composition and surface roughness. Titanium anodized surface significantly increases blood clot retention, significantly increases nano-roughness, and favors osseointegration. These conclusions highlight the functionality of the anodized titanium surfaces, as well as the potential of anodization of dental implants, including supraosteal implants.
Conclusions
Anodized 3D printed titanium restorations might be a relevant option to increase esthetics and functionality of dental restorations. Concerning esthetics first impressions and feedbacks by our dentists and their patients on the anodized titanium restorations are positive. Concerning functionality results of the published studies are promising and encourages further investigations.
I express my thanks to our strategic partner, the Dent-Art-Technik dental laboratory for their contribution to this article.
About The Author: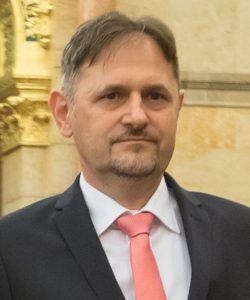 Zsolt Pásztor is very engaged in the application of 3D printing in the healthcare sector. He is the Managing Director of Premet (www.premet.hu), a company focusing on the production of 3D printed products, including those made of CoCr, titanium and PEEK, for the dental and medical sectors. He is the leader of a3D Printing Training Centre that delivers training on digital dentistry. Zsolt is the founder and Vice-President of the Hungarian Additive Technology Association.
He is the lead expert of a project aiming at facilitating transnational cooperation of Hungarian entities on the application of 3D printing in the health sector. He is very much interested in importing best practices to Hungary and in a broader sense to the Central and Eastern European region and export them from the Region. Zsolt is also the current 3DHEALS Budapest community manager. Dr. Pásztor will be speaking at 3DHEALS2020 CMF panel as well as updating the Hungarian 3D printing ecosystem.
Related Articles:
Metal 3D Printing in Dentistry – Restoration
Interview with Dr. Mayra Vasques, Dental 3D Printing, INNOV3D
Interview: Game Changer with 3D Printed Dental Implants (Video)
3D Printing Has Come of Age But How Safe Are the Devices Going Into Our Mouth?
What Matters When Enabling Your Dental Practice with 3D Printing and 3D Scanning