Biomaterial development plays a crucial role in advancing the 3D printing industry, particularly in the fields of healthcare, regenerative medicine, and tissue engineering. The ability to create complex, patient-specific structures using 3D printing and bioprinting opens up unprecedented possibilities for personalized medical treatments and advancements in healthcare. Biomaterials specifically designed for 3D printing (or Bioinks for Bioprinting) enable the fabrication of intricate, biocompatible structures with precise mechanical and biological properties. By tailoring biomaterial formulations to mimic the characteristics of native tissues, researchers and clinicians can create scaffolds, implants, and organ constructs that promote cell growth, tissue regeneration, and integration with the host body. Moreover, the continuous exploration and refinement of biomaterials for 3D printing contribute to the development of innovative medical devices, drug delivery systems, and surgical tools. As biomaterial development progresses, it drives the expansion of the 3D printing industry's capabilities, offering new solutions for personalized healthcare and revolutionizing patient care and treatment outcomes. In this upcoming event, we invite a panel of experts to dive deep into the current status, immediate future, and long-term outlook on biomaterials/bioink for healthcare 3D printing applications.
Apply to speak or sponsor the event: info@3dheals.com
Subscribe here to receive event timing and registration announcements.
Speakers:
Dr. Julien BARTHES, CEO and co-founder of 3Deus Dynamics holds an engineering degree in physical chemistry of polymers and a PhD in biomaterials science. He has a solid experience in tissue engineering and additive manufacturing He experienced project leading of different type of funding and domains, as PANBIORA-H2020 and IMMODGEL-FP7 (European projects on biomaterials/implants) or FASSIL (National FUI project on AM). During these projects he maturated a strong experience in the field of tissue engineering, with a deep focus on cell and biomaterials interaction, as well as in AM technologies. He was involved in both academic and industrial R&D projects with a constant implication in the scientific dissemination, with more than 25 articles published. Before starting 3Deus Dynamics in 2020, he was working for the past 6 years in a MedTech startup developing ENT medical devices and he managed the development of medical devices from the laboratory stage to their marketing.
Gurkaran Chowdhry is a polymer physicist and a co-founder of 3D BioFibR Inc, a pioneering biotechnology company at the forefront of biomaterial innovation and manufacturing. As the Director of Business Development and Operations, he has raised $5 million in funding within three years, enabling the successful commercialization of five groundbreaking biomaterial products through direct sales and strategic partnerships. As an innovative leader, Gurkaran is determined to bring 3D BioFibR to the forefront of biomaterial fabrication and help move 3D bioprinting technologies towards clinical applications.
An accomplished scientist and entrepreneur, Rao S. Bezwada, Ph.D. established Bezwada Biomedical, an innovation-based and technology-driven research company, in 2003. The company is focused on developing a wide range of novel absorbable polymeric biomaterials to enhance quality of life by producing next generation bioabsorbable medical devices with therapeutic applications. Dr. Bezwada earned a doctorate in chemistry from the Stevens Institute of Technology in New Jersey and has over 40 years of research experience in the medical device industry, including 20 years of service at Ethicon, Inc. (a Johnson & Johnson Company). While at Ethicon, Dr. Bezwada's research and development efforts led to the launch of a number of products, including Monocryl®, a new ultra-pliable synthetic absorbable monofilament suture. This product has represented worldwide sales of more than two (2) billion dollars since its launch in 1993 and current annual sales of over 100 million dollars. In recognition of this invention, along with its development, Johnson & Johnson, Inc. awarded Dr. Bezwada the prestigious Johnson Medal in 1996. Dr. Bezwada has been a prolific inventor and has been issued more than 135 U.S. patents on absorbable polyurethanes, absorbable amino acid polymers, absorbable polyester amides, absorbable polyoxaesters, and controlled release polymers. FDA-approved products such as MONTAGE® Putty, MONTAGE Fast Set Putty, Montage Flowable Putty, and PERMATAGE Putty, marketed by Abyrx for wound healing and bone applications, are based on Bezwada Biomedical's absorbable polyurethane technology. Dr. Bezwada has also pioneered specialty bio-inks for 3D printing applications. In addition to his passion for science and technical accomplishments, Dr. Bezwada has also established a non-profit organization, Society for Basic Needs, in India. This organization has a mission aimed at improving the quality of life for those less fortunate by providing them with essential amenities and opportunities for health and education.
Neeti Srivastava is the Director, R&D, Business Development and Quality Affairs at Bezwada Biomedical. Dr. Srivastava has 14 years of experience in development of absorbable polymers for medical devices, drug delivery and 3D Bioprinting. She made contributions for the development of absorbable polyurethane formulation that received 510K approval from the FDA and was commercialized as a bone hemostat by Abyrx, Inc. She led the quality efforts resulting in ISO 9001 certification of Bezwada Biomedical. Furthermore, Dr. Srivastava has authored several scholarly articles and has been published in international scientific journals, along with presentations at American Chemical Society and Society for Biomaterials conferences.

Dr. Nicole Black is the Vice President of Biomaterials and Innovation for Desktop Health. Nicole grew up in Michigan before moving to Boston to attend Boston University as Trustee Scholar. There, she studied Biomedical Engineering with a minor in Mechanical Engineering and a concentration in Nanotechnology. Following graduation, Nicole worked briefly at a startup company developing drug-eluting implants for the treatment of epilepsy. In 2014, Nicole started her PhD work at Harvard University in the lab of Professor Jennifer Lewis. During graduate school, Nicole worked on interdisciplinary projects between the Wyss Institute for Biologically Inspired Engineering and Mass Eye and Ear hospital, alongside Dr. Aaron Remenschneider and Dr. Elliott Kozin. Specifically, she focused on developing biomimetic eardrum grafts using novel materials and 3D printing technologies. Nicole graduated with her PhD in 2020 and started a postdoctoral fellowship as a Gliklich Healthcare Innovation Scholar. During this time, Nicole co-founded Beacon Bio, a startup company developing 3D-printed regenerative tissue grafts. Beacon Bio was named the runner-up prize winner in the MassMEDIC IGNITE pitch competition and a $25k prize winner in the Harvard i-Lab President's Innovation Challenge. As the CEO, Nicole led an early-stage acquisition of Beacon Bio to Desktop Metal in 2021. Nicole currently leads a team at Desktop Health, a healthcare division of Desktop Metal, to bring the PhonoGraft device for eardrum perforation repair to patients. She is also leading partnerships with other medtech companies to help them realize the potential of the 3D-Bioplotter for innovative medical devices. Nicole's accolades include the Collegiate Inventors Competition Graduate Team Winner (2018), the Baxter Young Investigator Award (2020), the Lemelson-MIT Student Prize (2021), and Forbes 30 Under 30 in Manufacturing and Industry (2022). Nicole is passionate about inspiring the next generation of scientists and engineers, and she has led a variety of outreach and mentoring programs for K-12 and undergraduate students. In her free time, Nicole enjoys crafting, reading, kayaking, and spending time with her cat, Merlin.
Moderator:
Craig Rosenblum (TWITTER: @RosenblumCraig) is the Vice President & General Manager of Himed. Over 30 years of operation, Himed has become a global leader in calcium phosphate based biomaterial production and has developed proprietary plasma spray coatings and surface treatments. Craig and his team collaborate directly with dental and medical device manufacturers around the world to provide innovative biomaterial solutions. Craig discovered a unique application for MATRIX MCD® post-processing additively manufactured titanium implantable devices using Himed's proprietary and biocompatible resorbable blast media. Himed has since formed a strategic partnership with Lithoz, a global market leader in 3D printing, to develop new bioceramic bioinks for medical 3D printing. Craig received his B.S. and M.S. degree in Materials Science & Engineering with a Biomaterials concentration from The Johns Hopkins University (Baltimore, MD). With a focus in biomaterials characterization, his groundbreaking research explored the variations in the microstructure and mechanical properties of dental enamel. These studies were the first to demonstrate the unique heterogeneous nature of enamel. Craig currently serves on The Johns Hopkins University Materials Science & Engineering Advisory Board.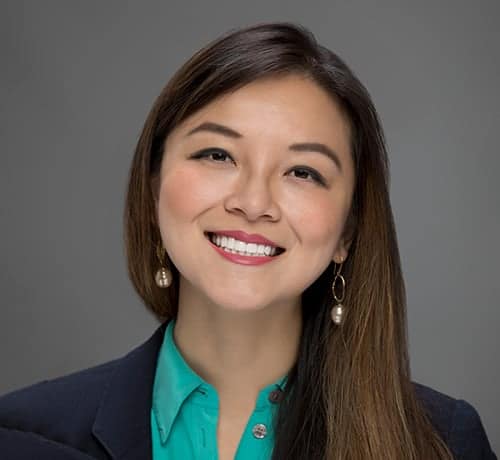 Dr. Jenny Chen is trained as a neuroradiologist, and founder/CEO of 3DHEALS. Her main interests include next-generation education, 3D printing in the healthcare sector, automated biology, and artificial intelligence. She is an angel investor who invests in Pitch3D companies.
Now on Demand:
Sponsor: