Australia is well-positioned to play an important role in the global healthcare 3D printing and bioprinting industry and is making significant contributions to the development of the Asia-Pacific markets. This guide seeks to provide an introduction to Australia's Healthcare 3D Printing Ecosystems including past innovation milestones, major players in academia, private and public sectors. We seek to provide a reference point of information on healthcare 3D printing in Australia and will be updated further to update regularly any notable organizational changes or initiatives that haven't been reported here.
Outline of this Guide:
History, Culture, People
Australia is the smallest continent on earth but is the largest country in the Oceania region and 6th largest overall by total area with a population of just over 25 million. Canberra is the capital, with Sydney, Melbourne, and Brisbane the largest cities that house the majority of the population across the eastern states. Indigenous Australians are the traditional custodians of the land and have inhabited the continent for around 65,000 years prior to European settlement in 1788 by Great Britain. The most distinctive characteristics of this vast country are its global isolation, its low relief, and the aridity that covers much of its surface. The sheer size of Australia gives rise to a wide variety of unique landscapes, wildlife, and climates with deserts encompassing the centre, tropical rainforests in the north-east and mountain ranges in the south-east.
A significant feature of modern Australian society is the representation of a broad spectrum of cultures drawn from many countries all over the world. This rich cultural diversity is one of Australia's greatest strengths and is central to our national identity. A common national narrative hails Australia as the 'lucky country' for the comfortable quality of life its population enjoys and a common belief among Aussies is that an easy-going lifestyle is key.
MedTech and 3D Printing Innovation in Australia:
The healthcare industry in Australia is known to be at the cutting edge of technological advancements with a strong track record of medical innovation including pioneering the first ultrasound scanner in 1961 by David Robinson and George Kossoff, to developing the first cochlear implant by Professor Graeme Clark in 1978 and inventing spray on skin for burns victims in 2005 by Dr. Fiona Wood. 3D printing has also been at the forefront of medical innovation in Australia, and in 1993, Anatomics 3D printed two stereolithographic BioModels of a child with hypertelorism for Dr Michael Lanigan who was a pioneering Craniofacial Surgeon from the Mater Children's Hospital. One of these models were used to simulate surgery and the other one as a reference.
Australia's adoption of 3D printing in healthcare is making it possible for medical professionals to provide patients with a new form of treatment in a number of different ways including the development of surgical cutting guides, prosthetics as well as the creation of patient-specific replicas of bones, organs, and blood vessels for surgical planning to help reduce time spent in the operating theatre and improve patient outcomes. Recent advances of 3D printing in healthcare have led to lighter, stronger and safer products, reduced lead times and lower costs. Custom parts can be tailored to each individual, improving the understanding of patients by medical professionals and improving patient comfort levels by allowing interaction with products that are designed especially for their anatomy.
In a 2019 market analysis report by AMFG and ThyssenKrupp, as a consumer, Australia's additive manufacturing (AM) market made up only around 3-5% of the total AM market in the Asia-Pacific region.
However, in recent years, the Australian government has been playing a positive role in accelerating the adoption of AM in the country, ranking Australia a leading innovator in the space despite a small consumer market.
Public Sector
There are four main government-funded initiatives, including the MTPConnect growth centre for medical technologies, the Australian Advanced Manufacturing Growth Centre, and the Innovative Manufacturing Cooperative Research Centre, and the Additive Manufacturing Hub. These have supported not only the broader transition of Australia's manufacturing industry towards higher value AM technologies, but also an epicenter for healthcare 3D printing. We can undoubtedly expect further collaborative efforts across users, suppliers and supporters that will ultimately spread the adoption of these promising technologies to help shape the future of personalized patient care.
MTPConnect is a not-for-profit organisation aiming to accelerate the rate of growth of the medical technologies, biotechnologies and pharmaceuticals sector to increase commercialisation, collaboration and establish Australia as an Asia-Pacific hub for MTP companies. Formed in December 2015 as part of the Federal Government's Industry Growth Centres Initiative, MTPConnect is an independent and trusted voice, calling for change to support the sector. MTPConnect raises awareness, fosters collaboration and competition, aggregates existing knowledge and shares it with the broader sector. It also jointly funds projects that address the Sector Growth Priorities and the constraints and gaps identified in the sector.
MTPConnect's mandate as an Industry Growth Centre is focused on four key areas:
Increasing collaboration and commercialisation across the sector
Improving management and workforce skills
Improving access to global supply chains and international markets
Optimising the regulatory environment
The Advanced Manufacturing Growth Centre (AMGC) was established in 2015 as a key plank of the Australian Government's Industry Growth Centre Initiative. Its goal is to drive innovation, productivity and competitiveness across Australia's manufacturing industry.
AMGC is an industry-led, not-for-profit organisation and is run by a board and management team of industry experts. It is connected with a nationwide network of manufacturers, universities and research institutions, and export hubs. The Centre's role is to share its respected research on how the industry can transform to become more advanced. AMGC puts its research into action by engaging with manufacturers and universities in high-impact projects and export hub opportunities. AMGC membership is growing rapidly and currently consists of 2600+ organisations and research institutions and represents over 50,000 employees.
IMCRC is a not-for-profit cooperative research center that helps Australian companies increase their global competitiveness through research-led innovation in manufacturing products, processes and services. IMCRC operates until mid-2022 with up to $30 million EXPRESSION OF INTERESTS AND PROJECT APPLICATIONS in funding available to co-fund industry-led research projects. Industry cash is matched on a dollar for dollar basis, where eligible research is conducted by IMCRC participant universities and/or CSIRO.
The Center welcomes collaborative research projects that can be completed within a 6 to 12 month period, investing in new innovative manufacturing technologies and business models, including Industry 4.0. Projects that deliver outcomes aligned with Australia's national/sovereign priorities, including COVID-19, and/ or provide environmental and sustainability solutions, are also encouraged. More information on project criteria at IMCRC can be found here.
The vision of the Additive Manufacturing Hub is to provide an industry driven collaborative network of AM users, suppliers and supporters that will foster and grow the adoption of additive manufacturing technology. Led by AMTIL (Australia Manufacturing Technology Institute Limited), and supported by the Victorian Government, the Additive Manufacturing Hub has been established to grow and develop Additive Manufacturing capability. The AM Hub will be the first port of call for any companies looking to explore the potential of additive manufacturing, or further expand their use of the technology.
Academic Sector
3D Printing in Hospitals
The Austin Health – University of Melbourne 3D Medical Printing Laboratory is spearheaded by A/Prof. Jason Chuen and Dr. Jasamine Coles-Black. It is dedicated to the development and dissemination of 3D visualization, 3D modelling and 3D printing technologies to enhance patient care.
3D Med Lab's core goals are to improve healthcare professional and patient education, surgical preparation and planning of complex cases, medical devices and prosthesis development whilst understanding the social and legal impacts of 3D printing technologies.
Pictured above (top left) is a 3D printed kidney with a tumour in blue and blood vessels in pink and purple, facilitating surgeons at Austin Health to rehearse their surgery plan for the removal of kidney tumours. (image credit: 3D Med Lab)
EPIC Lab for developing Engineering and Prototyping Implants for Children was launched in January 2016 by orthopaedic surgeon Prof. David Little in collaboration with the University of Sydney and The Children's Hospital at Westmead.
The focus of the EPIC Lab is to use 3D technologies to develop paediatric medical devices with the goal of improving children's lives with two main research programs including the prototyping and commercialization of orthopaedic implants for children and the development of 3D printed ankle-foot orthoses for children. The EPIC Lab's group leader Dr. Tegan Cheng has previously written an Expert Corner blog for 3D Heals which can be found here. (top middle image credit: Dr. Tegan Cheng)
Royal Perth Hospital is one of Australia's largest and busiest hospitals, with the Department of Medical Engineering and Physics the oldest biomedical engineering service in Australia, first established in 1969 and in 2006 supplied the world's first 3D printed custom acetabular implant.
3D printing makes up a large part of their current service and more recently a multidisciplinary team is developing a process where they aim to regrow skull bone itself using 3D printed bio ceramic scaffolds in combination with stem cells before being replaced in the cranium during surgery.
(top rightimage credit: 3dprint-au)
The Herston Biofabrication Institute located within the Royal Brisbane and Women's Hospital opened in 2020, bringing together clinicians, academics, industry and consumers to advance knowledge and technology in 3D scanning, 3D modelling, and 3D printing of medical devices, bone, cartilage and human tissue. The institute's clinical director Dr. Michael Wagels has formed significant research partnerships with the University of Queensland focusing on orthopedics, urology, vascular surgery, burns and cancer care. (bottom left image credit: Herston Biofabrication Institute)
The Aikenhead Centre for Medical Discovery located within St Vincent's Hospital in Melbourne is Australia's first hospital-based, world-class healthtech innovation center
with 9 partner institutions. The new state-of-the-art center will become a fully integrated medical, engineering, scientific and commercial research center that accelerates tangible outcomes for some of today's most pressing health challenges including the treatment of osteoarthritis through the development of a handheld pen termed the 'AxceldaPen' that allows surgeons to insert printed stem cells directly into a cartilage injury. (bottom middle image credit: ACMD)
The Royal Adelaide Hospital is the first public hospital in South Australia to house a 3D printer, which is shared with the Australian Craniofacial Unit and Plastics Department. The 3D printer uses CT scans to develop approximately 40 life size anatomical models each year, including skulls, jaws, hands and fingers for treatment planning and complex trauma cases improving patient outcomes by increasing accuracy and reducing operating times by approximately one hour on average. (bottom right image credit: RAH)
Academic Research in 3D Printing
Australia is working towards becoming a focal point of medical 3D printing, and in line with this progressive scientific transformation the Australian government has funded a number of industry-orientated research centers to train the next generation of biomedical engineers with the skills in personalized 3D printed medical devices, implants, and biofabricated tissues.
The Australian Research Council Training Centre for Medical Implant Technologies is Australia's largest collaborative research center to date, bringing together 24 organizations across hospital clinicians, academics and industry in order to develop an integrated framework for 3D printed prosthesis, implants, and personalized surgical devices. Research projects span across Epworth Healthcare, Flinders University, Griffith University and the University of Melbourne working with a range of partners from Australia, Belgium, China, United Kingdom and the United States. To learn more about this multidisciplinary endeavor, hear from the center's director Prof. Peter Lee from our recent 3DHeals Melbourne event (top left image credit: ARC CMIT)
The emergence of the significant role that 3D bioprinting will play in excelling tissue engineering and regenerative medicine approaches is the core focus of the Australian Research Council's Industrial Transformation Centre in Additive Biomanufacturing led by Prof. Dietmar Hutmacher from Queensland University of Technology. Primary objectives of this center are to move beyond established single material printing processes and applications that exhibit conventional levels of functionality to develop the next generation of multimaterial and multifunctional platforms. Pictured above is an example of a collaborative project with Cochlear, investigating how advances in 3D printing technologies may enable the production of multi-material parts suitable for cochlear implants to reduce costs and increase functionality. (top middle image credit: ARC ITCAB)
Translational Research Initiative for Cell Engineering and Printing or (TRICEP)
At the heat of Australia's 3D bioprinting evolution is Prof. Gordon Wallace, the director of Australian Research Councils Centre of Excellence for Electromaterials Science and the Translational Research Initiative for Cell Engineering and Printing or (TRICEP) based at the University of Wollongong. TRICEP is leading the way in the development of bioinks, bioprinters and bioprinting processes making them ready for scaled-up production by implementing quality management systems allowing the facility to realize real commercial opportunities. Pictured above is the recently launched 3D REDI bioprinting platform aimed at educating the next generation of bio fabricators and serving as a biomaterials research tool. (top right image credit: TRICEP)
In 2018, the Theme Director of Cell Biology at the Murdoch Children's Research Institute, Prof. Melissa Little announced a collaboration with global 3D bioprinting pioneers Organovo to develop an architecturally correct kidney for potential therapeutic applications. Harnessing the power of 3D bioprinting technologies combined with the regenerative potential of stem cells, a recently published landmark study in Nature demonstrated the immense potential of 3D bioprinting technologies for improved kidney organoid reproducibility and conformation in the modelling of kidney diseases and screening for drugs. (bottom left image credit: MCRI)
The Advanced Manufacturing Precinct at the Royal Melbourne Institute of Technology (RMIT) houses some of the most advanced additive manufacturing equipment in Australia working closely with industry to develop new conceptual products, perform multiple design iterations or enhance existing additive manufacturing processes in the healthcare sector. Medical 3D printing research projects in the precinct have focused on advanced limb reconstruction, surgical guides and a collaborative project with medical device company Stryker investigating 'just-in-time implants' for people with bone cancer. (bottom middle image credit: RMIT)
Lab 22 (CSIRO)
CSIRO, Australia's national science agency, has made a substantial commitment to 3D printing research, with an AUD$ 6 million-plus investment in its Lab 22 facility back in 2015 with a mission to increase the adoption of metallic 3D printing across a range of industries. Working closely with Monash University helped create the Centre for Additive Manufacturing which has fostered the creation of novel technologies and opportunities in the healthcare sector. A noteworthy example of its output includes the development of the world's first customized 3D printed self-expanding nitinol stents which provides a better fitting device, better conformity to blood vessels and improved recovery time for the patient. (bottom right image credit: CSIRO)
Private Sector
Notable Private Companies
Anatomics is a Melbourne-based medical device company that has been manufacturing and marketing surgical products to surgeons locally and internationally for over 25 years. Anatomics pioneered CT scan derived surgical implant technologies and are leaders in providing 'patient specific' solutions to produce better surgical outcomes and save valuable operating theatre time. Anatomics has been involved with numerous world-first operations harnessing the power of 3D printed implants including a polymer cranium for a woman in the Netherlands, a titanium ankle and heel that allowed a Melbourne man to avoid amputation, and a titanium sternum and rib implant for a man in Spain. (image credit: Anatomics)
Fusetec is a revolutionary medical device company based in Adelaide that is 3D printing human body part models, complete with realistic, anatomically accurate bone, skin and muscle, for use as teaching aids during surgical training. Fusetec's medical devices can be designed and manufactured to simulate specific pathology, such as tumours, broken bones or defective heart valves, enabling students and surgeons to practice 'real world' specific procedures. (image credit: Fusetec)
3DMEDiTech is a Melbourne-based personalized medical device company first established in 2016 that houses large-scale state-of-the-art 3D printing facilities that is helping maximize supply chain efficiencies for governments, hospitals and clinics. 3DMEDiTech is playing a vital role during the COVID-19 pandemic by producing effective 3D printed nasopharyngeal and saliva swab testing kits and is currently contracted with the Australian government to produce 10% of the national stockpile. In addition to test kits, they are still supplying their usual line of 3D printed dental alignment devices SmileStyler, and custom-made orthopaedic helmets for babies. (image credit: 3DMEDiTech)
Inventia Life Science is a Sydney-based company first established in 2013 and are leaders in the development, manufacture and sale of equipment and reagents for advanced medical research assays by leveraging the power of 3D bioprinting technologies. Inventia's low cost and standardized additive fabrication of 3D human tissues and organ models enable the flexible production of 3D cell-based assays and are playing a significant role in accelerating drug discovery and fundamental biology research. Recently, Inventia has partnered with one of Australia's most respected surgeons and world leading burns specialists Prof. Fiona Wood to develop the Ligō platform, comprised of a printhead mounted on a robotic arm that rapidly and accurately delivers a patient's own skin cells to create a new layer of skin where it has been damaged, helping to accelerate tissue repair and reducing the risk of infection (image credit: Inventia Life Science)
iOrthotics was first established in 2009 in Mackay, Queensland and has developed into Australia's premier destination for custom made orthotic devices for podiatrists. iOrthotics utilize digital foot/cast scanning and computer aided design with 3D printing processes to enable patient specificity to a much smaller degree and to further transition to a minimal waste production process for rigid orthotics, compared to traditional polypropylene devices. (image credit: iOrthotics)
Aurora labs is a Perth-based industrial technology and innovation company that specializes in the development of 3D metal printers, powders and digital parts. Recently, Aurora labs is facilitating researchers by collaborating with the University of Western Australia and Royal Perth Hospital to develop a 'how to' guide for printing human medical implants. Under the project, the partners will develop designs, specifications and tailored parameters for the 3D printing process to optimize characteristics suitable for tissue ingrowth. (image credit: Aurora labs)
Allegra orthopaedics (formerly known as Advanced Surgical Design and Manufacture Limited) was first established in 1994 and is based in Sydney. Allegra has a strong clinical track record in the field of primary knee replacement prosthesis and is continuing its production innovation and development with the recent adoption of additive manufacturing by commercializing a 3D printed bio ceramic bone graft medical device with outstanding potential for supporting bone regeneration in load bearing applications. (image credit: Allegra)
3DMorphic is a Sydney-based medical device company founded in 2015 that creates personalized medical instruments and devices used in orthopaedic surgery. 3DMorphic employs a process that automatically edits generic 'off-the-shelf' designs to suit individual patients' needs and therefore saves valuable time and costs in the operating room whilst improving clinical outcomes. (image credit: 3DMorphic)
3D One is a 3D design and 3D printing company based in Brisbane that specializes in radiation oncology applications. 3D Ones customizable radiation oncology materials and applicators medical devices have been developed to improve the safety, precision, workflow, and cost-effectiveness of radiation oncology. The featured XMASK provides an accurate, nontoxic and non-invasive replacement for patient-specific lead facial shielding. (image credit: 3D One)
Oventus Medical was founded by a dentist, Dr. Chris Hart (a sleep apnea patient himself), Oventus Medical set out to invent the O2Vent because the market demanded a new modality of treatment and technology. Traditionally, sleep apnea patients who are identified with having nasal obstruction have not been considered to be a good candidate for oral appliances and are routinely prescribed CPAP. This is because the natural reaction of not being able to breathe through your nose is to mouth breathe. If a standard oral device were prescribed, a patient might find it difficult to tolerate because both the obstruction in the nose and oral appliance in the mouth would limit the capacity to breathe.
The 3D printed O2Vent airway channel has been incorporated into each device that enables unobstructed air to flow through the device to the back of the throat, bypassing common sites of obstruction such as the nose, tongue, and soft palate. The device is personalized using 3D Scanning and 3D Printing.
About the Author: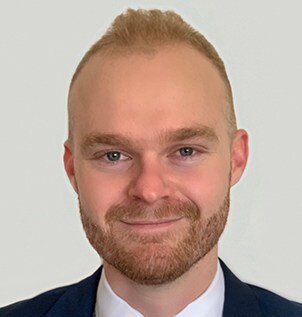 William Harley graduated with honors in medical biotechnology from the University of New South Wales. Currently, he is undertaking a Ph.D. at the University of Melbourne in acoustophoretic bioprinting. Stemming from his research experience in biomaterials, stem cells, and nanofabrication, he is driven by the clinical translation of personalized regenerative medicine. He is passionate about the innovation of 3D printing in healthcare and is determined to orchestrate a series of 3D HEALS events to engage in the Australian community.
Related Articles:
3DHEALS IG Live: William Harley, Healthcare 3D Printing Ecosystem in Melbourne (Recording)
Bioprinting for Tissue Engineering and Regenerative Medicine in Australia: 2020 Workshop Highlights
Australian Regulatory Updates for 3D Printed Medical Devices and Implants
3D Med 19 Conference (Australia) Recap
Bioprinting Down Under (Australia): Recent Workshop Take-away