Medical simulation either for education or surgical training has been one of the first applications leveraging 3D printing (additive manufacturing). With the rapid progress made in healthcare 3D printing machinery, software, and materials, innovations within this sector have also made significant advances in the last few years. In this upcoming virtual event, we invited experts with clinical, industrial, and educational backgrounds to share their latest works, perspectives, and outlooks on the sector. We will also have breakout rooms after the webinar presentations for networking purposes, which will last around 30 minutes. This serves to network freely and also to connect Pitch3D startups and investors during the breakout session, and you can apply here. The on-demand recording will be available here after the event.
Subscribe here to receive future event emails.
Speakers:
Abdel Hakim Moustafa, MD is a cardiologist at the Hospital de la Santa Creu i Sant Pau, Barcelona, specialized in multimodality cardiac imaging (Cardiac CT, Cardiac MR, echocardiography) with a focus on structural and valvular heart diseases.
He is an expert in medical 3D printing, 3D modelling and advanced visualization to create patient specific anatomical models for pre-procedure planning and training, as well as the development and testing of medical devices. He founded the Sant Pau Hospital 3D lab 2 years ago, and collaborates closely with the HP 3D Printing to create patient and pathology specific training simulators for Edwards Lifesciences and NaviGate Cardiac Structures, among others.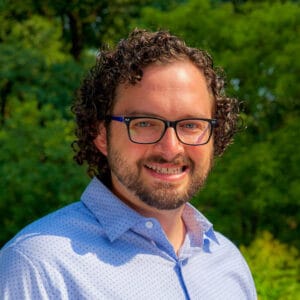 Robert S. Pugliese is Director of Innovation Design at Thomas Jefferson University and Jefferson Health where he co-founded the Health Design Lab, a creative space built with the purpose of merging together design-studio ethos with science-oriented discipline to foster innovation in healthcare. As somebody who enjoys empowering future health care providers to be change makers, Robert leads programs that train students to be health design thinkers and innovators. A Doctor of Pharmacy (PharmD), Robert has spent over ten years practicing and teaching in Emergency Medicine. He believes that including both the patient and provider voice is vital to healthcare design, and he brings each of these perspectives to his work through his experience as a clinician and through his own journey coping with insulin-dependent diabetes. Robert has presented on the intersection of healthcare and design at national venues such as SXSW and Stanford Medicine X and in 2019 he was selected as a Philadelphia Business Journal 40 Under 40 honoree. Throughout the COVID-19 pandemic Robert has used his unique experience to lead critical response efforts to overcome supply chain short falls and respond to community needs for testing and vaccination. In his spare time, Robert produces a weekly podcast and enjoys spending time with his wife and three daughters.
Stephen Wilson
Talk title: Advantages of 3D Printer Use by a Hospital-Based Simulation Program
Stephen Wilson is Director of Engineering at Boston Children's Hospital's on-site pediatric Simulator Program (SIMPeds). Steve and his team collaborate directly with clinical partners to design and develop custom medical engineering solutions seamlessly integrated with patient care. Focused on bedside impact, the SIMPeds Engineering Studio provides a wide range of services including using 2D medical imaging to create patient-specific digital and 3D-printed models to support diagnosis, treatment and surgical planning. These creations provide clinicians with critical context and details regarding the patient's anatomy that routinely change clinical approaches and impact patient outcomes.
Steve and his team also provide a vast array of tools for clinicians to improve their practice and patient outcomes, these include lifelike devices to enhance simulation-based clinician training & education, immersive technology solutions (e.g., Virtual Reality, Augmented Reality, 360 video) for clinician training and patient family support, and the design and fabrication of novel medical devices using in-house "Makerspace" resources.
Steve's decades of experience in the medical device industry creating implants, instruments and equipment used in sports medicine, general surgery/trauma, orthopedic surgery & neurosurgery, has defined his passion to create practical and elegant solutions that improve health care.
Ziad brings more than two decades of experience working in the medical device industry as an executive and leader of clinical operations and regulatory affairs for emerging startups and high-growth businesses. He currently serves as President and CEO of Biomodex, a transformative digital healthcare company offering bio-realistic haptic simulators for patient-specific rehearsal and physician training. Prior to Biomodex, Ziad served as Vice President of Regulatory and Clinical Affairs at Juul Labs, which was acquired by Altria in 2018. Previously, he served as Vice President of Regulatory and Clinical Affairs for PQ Bypass, a pioneering Fogarty Innovation startup that was recently acquired by Endologix for more than $300 million. In 2013, Ziad served as Vice President of Regulatory, Clinical and Quality Affairs for Altura Medical before the endovascular repair device maker was acquired by Lombard Medical for $50.5 million. His diverse work experiences include senior positions at Bay Area Biotech, Auxogyn, and Avinger, Codman, Evalve, and Guidant. Ziad received both a BS and BA from McGill University and a J.D. from Rutgers University.
Now on Demand:
Thanks to event sponsor: