The Legal Landscape in Healthcare 3D Printing
It is our experience that risk can be mitigated with knowledge. In the upcoming months, we plan to invite legal and regulatory experts to provide foundation knowledge and updates on the legal landscape in healthcare 3D printing. These webinars will focus on critical issues faced by entrepreneurs and startups in the healthcare 3D printing ecosystem, ranging from intellectual property, medical device liability, as well as FDA and CE regulations and guidance, focusing both on biological and non biological devices.
Speakers:
Sean Burke is partner and vice chair of the products liability trial division at Duane Morris. He is in the firm's Washington, DC office. Mr. Burke's practice focuses on representation of manufacturers of medical devices in products liability cases across the country, including in consolidated multi-plaintiff matters in both federal court and state courts. His experience includes defense of large total joint replacements (hips, knees, ankles, and shoulders) and resurfacings, tissue matrices and patches, fusion plates, and surgical instruments. He has a particular interest and focus on additive manufacturing, consulting and advising clients on best practices in the early stages of development to reduce risk of products liability exposure. He has tried medical device cases before juries in both state and federal courts while also handling numerous mediations. He works closely with scientific experts to advance causation and liability defenses in the areas of biomechanical engineering, toxicology, histology, epidemiology, orthopedic surgery and FDA regulations.
Roger Kuan is a Partner at Haynes and Boone and chair of the Precision Medicine and Digital Health Practice Group, where he counsels companies that are uniquely positioned in the convergence of the life/medical sciences and technology industries on how to successfully navigate the complexities of the intellectual property (IP), data rights and regulatory challenges they encounter.Roger has extensive experience in IP strategy and portfolio management (utility/design patents, trademarks, copyrights, and trade dress), data rights strategy, licensing and technology transactions, freedom-to-operate clearances, enforcement, monetization, IP due diligence, and dispute resolution. His practice is focused in the life sciences sector (e.g., research tools, analytical instrumentation/software, digital therapeutics, medical devices, diagnostics, biomanufacturing equipment, etc.) with an emphasis in emerging technologies such as Precision Medicine (e.g., genomic sequencing platforms, AI/ML, computational genomics/bioinformatics, molecular diagnostics, companion diagnostics, etc.), Digital Health (e.g., mobile apps, clinical decision support, software, digital therapeutics, AI/ML Imaging Diagnostics, wearables, etc.) and 3D printing/bioprinting. Prior to joining Haynes and Boone, Roger served as Director, IP Counsel at a multinational biotechnology company, where he managed a team to support the worldwide IP needs of the company's life sciences tools, bioproduction/biomanufacturing, molecular diagnostics, and nucleic acid sequencing system/software platforms. Prior to finishing his law degree, he worked in the life sciences industry for several Fortune 500 pharmaceutical, medical device, and chemical companies. He has held professional positions in the R&D, sales, engineering, and regulatory affairs organizations.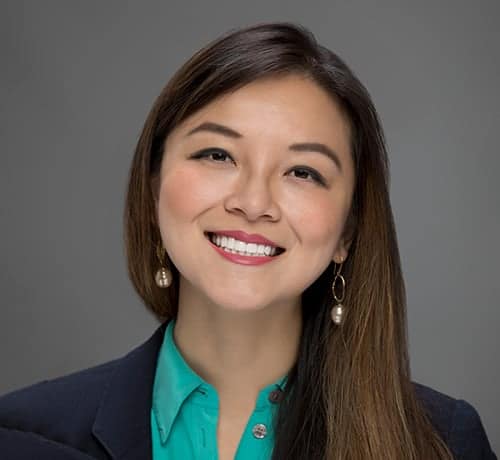 Dr. Jenny Chen is trained as a neuroradiologist, founder/CEO of 3DHEALS. Her main interests include medical education, 3D printing in the healthcare sector, and artificial intelligence. She is also a current adjunct clinical faculty in the radiology department at Stanford Healthcare.