The latest advantages of utilizing 3D printing for the fabrication of microfluidic devices and organ-on-a-chip systems have opened up new horizons in biomedical research and personalized medicine. 3D printing offers precision and flexibility that traditional methods often cannot achieve, enabling the rapid and cost-effective production of intricate microscale structures that mimic the complexity of human organs and tissue environments. Researchers can now customize microfluidic devices to emulate specific physiological conditions, allowing for more accurate drug testing and disease modeling. Moreover, the ability to integrate multiple materials in a single print enables the recreation of tissue interfaces and vascular networks, fostering the development of more lifelike organ-on-a-chip platforms. This innovative approach promises to revolutionize drug development, toxicology testing, and disease understanding, offering a glimpse into a future where personalized medicine is driven by these advanced, 3D-printed microsystems.
Speaker:
Elliot McAllister is the Founder of Skyphos, the first 3D printing fabrication system enabling a shift from the enterprise of mold-based prototyping and production for healthcare-based needs. Mr. McAllister has experience and expertise in Materials Science, Mechanical Engineering, Optics and developing microfluidic platforms. He has an advanced degree from Virginia Tech where his research focused on micro-3D printing 4 different forms of solid matter. Based on additive manufacturing technology, Mr. McAllister launched Skyphos to eliminate the barriers to entry of new applications in medical diagnostics and focuses on micro-scale requirements of microfluidics (uF), Lab-on-a-Chip (LOAC), Point-of-Care (POC) devices, as well as the needs of the sensors community. Skyphos leverages robotics, specialized materials, and the innate flexibility of a Digital Manufacturing platform to enable start-ups to get to market sooner – and large companies to reduce costs associated with developing new ones.
I am a dedicated researcher with a passion for academic and translational research. My journey began with a bachelor's degree in chemistry, where I developed a keen interest in biochemistry and polymers. Pursuing advanced studies in biotechnology at Sao Paulo State University (UNESP), one of Brazil's leading institutions, I delved into biomaterials science and tissue engineering during my master's and Ph.D. There, I focused on developing functional biomaterials for drug delivery and chronic wound healing. In 2019, I embarked on a transformative experience as a visiting researcher at the University of California, Los Angeles (UCLA) under the guidance of Dr. Ali Khademhosseini. At UCLA, I pioneered a microfluidic in vitro platform to model skin and explored innovative areas such as 3D bioprinting of functional skeletal muscle tissues and localized melanoma treatment. My dedication to groundbreaking research continued at the Terasaki Institute for Biomedical Innovation (TIBI), where I collaborated with esteemed mentors like Dr. Khademhosseini and Dr. HanJun Kim. Together, we investigated cutting-edge projects funded by NIH, including drug-eluting biomaterials for chemoembolization and bioengineered solutions for enterocutaneous fistula healing. Now, as a faculty fellow, I lead my research group at TIBI, focusing on shear-thinning hydrogels, microfluidic droplet platforms, and 3D bioprinted in vitro tissues.
Soon Seng Ng
Dr. Soon Seng Ng is an accomplished biomedical scientist and Director of Biology at Systemic Bio, leading groundbreaking research in 3D bioprinting and MPS development. With prior roles at Sana Biotechnology, Imperial College London, and Stanford University, Dr. Ng has made significant contributions in liver stem cell biology, disease modeling, drug discovery, and liver cell therapy. He has over 20 peer-reviewed publications, and his work has garnered awards and multi-million dollars grants, highlighting his impact on translational medicine and his commitment to bringing new therapies to patients. Dr. Ng's dedication to advancing biomedical research and improving patient outcomes establishes him as a highly influential figure in the field.
Anna Bickham is the cofounder and CEO of Acrea 3D. Anna received her Ph.D. in chemistry from Brigham Young University in Dr. Adam Woolley's lab, focusing on traditional and 3D printed fabrication of various medical and electrical microfluidic devices. She then spun Acrea 3D out of the technology used during her doctoral program, originating out of Dr. Greg Nordin's lab. Acrea 3D specializes in micro-scale DLP-SLA printing of void features down to 20 um. By leveraging mechanical, software, and physical techniques, Acrea 3D enables true microfluidic 3D printing.
Moderator: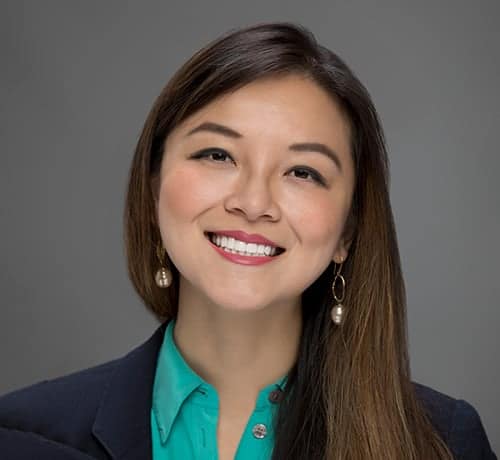 Dr. Jenny Chen is trained as a neuroradiologist, and founder/CEO of 3DHEALS. Her main interests include next-generation education, 3D printing in the healthcare sector, automated biology, and artificial intelligence. She is an angel investor who invests in Pitch3D companies.