3D Bioprinting for Drug Discovery and Development
3D bioprinting is a relatively new technology that has the potential to revolutionize drug discovery and development. Here are some ways 3D bioprinting can help in this field: 1) Generating realistic in vitro models: 3D bioprinting can create three-dimensional tissue structures that closely mimic the in vivo environment. These structures can be used to test the efficacy and toxicity of drugs in a more realistic setting than traditional two-dimensional cell culture methods. This can help researchers identify promising drug candidates earlier in the drug development process, which can save time and resources. 2) Personalized medicine: 3D bioprinting can be used to create patient-specific tissues or organs for drug testing. This can help identify drugs that are effective for a particular patient population, as well as identify potential adverse effects that may not be detected in traditional preclinical testing. 3) High-throughput screening: 3D bioprinting can enable the creation of large numbers of complex tissue models in a relatively short amount of time. This can allow for high-throughput screening of potential drug candidates, which can speed up the drug discovery process and reduce costs. 4) Target identification: 3D bioprinting can help researchers identify new drug targets by enabling the creation of more complex tissue structures that better mimic the in vivo environment. This can provide researchers with a more complete understanding of disease biology and help identify new therapeutic targets. 5) Overall, 3D bioprinting has the potential to improve the drug discovery and development process by enabling the creation of more realistic in vitro models, accelerating the drug discovery process, and improving patient outcomes through personalized medicine. In this highly anticipated event, we invite critical stakeholders in the 3D bioprinting drug development ecosystem to update the community on where we are in terms of technologies and commercialization of the technologies.
Speakers:
Andrew Lee is a co-founder at FluidForm, a 3D biofabrication company looking to change the way we think about tissue engineering and regenerative medicine. He currently is the Product Manager for the Cardiac Group at FluidForm. He received his Ph.D. in Biomedical Engineering at Carnegie Mellon University where his focus on muscle tissue engineering leveraged biofabrication to create skeletal and cardiac tissue models with complex tissues architecture as well as physiologically relevant contractile functions. This work resulted in a publication in the journal Science and is now utilized as the platform technology for FluidForm as it builds out a portfolio of tissues for research, repair, and replacement.
Kevin is the Director of Preclinical R&D at VoxCell BioInnovation. He acquired his Bachelor's of Science from the University of Victoria in Biochemistry. He then completed his Ph. D. also from the University of Victoria in physical chemistry studying the photo-physical characterization of supramolecular complexes. After his Ph.D., Kevin completed a post-doctoral fellowship at the University of Calgary working with the World Health Organization studying the decontamination and reuse of PPE during the SARS-CoV-2 pandemic. Kevin then joined VoxCell in December 2021, as a tissue engineering scientist where he now leads the development of VoxCell's tissue models.
As a Johnson & Johnson Fellow and Lead for 3D Bioprinting and Tissue Regen Technologies, Orquidea (Orchid) Garcia is the technical lead for 3D bioprinting, and related tissue regen technology development. She is responsible for evaluation and execution of technical strategies and new technology integration to develop a new class of next-generation healthcare solutions. Orchid works closely with internal business partners, as well as technology, academia and government partners to develop J&J's bioprinting capabilities.
Orchid has extensive experience identifying novel technologies through scientific discovery and translating them into patentable, marketable technologies both in industry and academia. Having served as the scientific subject matter expert on numerous initiatives, she brings a keen understanding of world-wide technical, scientific, regulatory and policy issues that face the business. Orchid has also held various positions within J&J and in industry in Clinical Affairs, Medical Affairs and Regulatory Affairs.
Isabella Bondesson is a Field Application Scientist at CELLINK, the global leading bioprinting company. Isabella has a BioTech Engineering degree from Chalmers Institute of Technology, and she joined CELLINK in 2018 as part of the R&D team to develop novel methods in tissue model printing. During her time at CELLINK Isabella has acquired expertise in multiple areas of bioprinting and is today leading the EMEA Application team who work with consulting, educating, and supporting customer needs within various aspect of 3D Bioprinting. As the leading 3D bioprinting company, CELLINK is committed to providing the most advanced 3D bioprinting products, services and technologies needed to understand and master biology. CELLINK develops technologies that democratize 3D bioprinting – providing the leading researchers in the world the tools they need to create the future of health.
Moderator: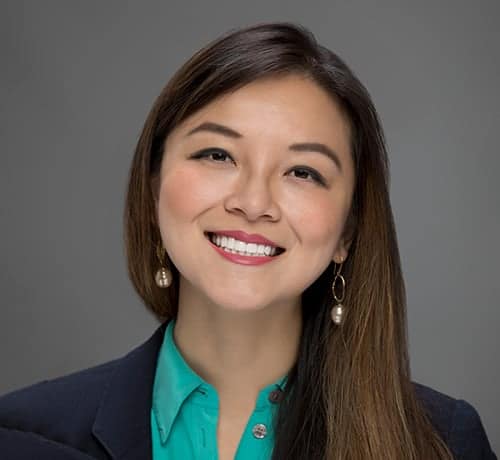 Dr. Jenny Chen is trained as a neuroradiologist, and founder/CEO of 3DHEALS. Her main interests include next-generation education, 3D printing in the healthcare sector, automated biology, and artificial intelligence. She is an angel investor who invests in Pitch3D companies.