The Art and Science of Bioinks
What is the secret sauce for successful bioprinting? It is well known that additive manufacturing biological materials, functional tissues, or even organs will rely heavily on the chemical and mechanical properties of the bioinks. While this is an area of active research, the perfect recipe to increase cell viability, biomimicry mechanical properties, and eventual tissue function is still elusive to many. Join us for this 90 minutes virtual event with world-class scientists and entrepreneurs to learn the basics and deep dive into the art and sciences of bioinks.
Speakers:
Dr. Willerth holds a Canada Research Chair in Biomedical Engineering at the University of Victoria where she has dual appointments in the Department of Mechanical Engineering and the Division of Medical Sciences as an Associate Professor.
She serves as the Acting Director for the Centre for Biomedical Research at the University of Victoria and on the steering committee of the B.C. Regenerative Medicine Initiative. She also served as the President of the Canadian Biomaterials Society from 2017-2018. Her honors include being named the 2018 REACH award winner for Excellence in Undergraduate Research-inspired Teaching, a Woman of Innovation in 2017, one of the 2015 Young Innovators in Cellular and Biological Engineering and a "Star in Global Health" by Grand Challenges Canada in 2014. She spent Fall of 2016 on sabbatical at the Wisconsin Institute for Discovery supported by the International Collaboration on Repair Discoveries International Travel Award where she wrote her book "Engineering neural tissue using stem cells" published by Academic Press.
She completed her postdoctoral work at the University of California-Berkeley after receiving her Ph.D. in Biomedical Engineering from Washington University. Her undergraduate degrees were in Biology and Chemical Engineering from the Massachusetts Institute of Technology.
Bowman Bagley has a B.S. in Neuroscience from Brigham Young University and an MBA from the University of Utah. He currently is a co-owner of Advanced BioMatrix, where he has developed, manufactured and launched over 50 products related to tunable substrate stiffness. He has also helped write multiple white papers related to various collagen properties and characteristics, including viscosity, rheology, purity, osmolality, pH, concentration and electrophoresis. Away from work, he is a husband, father, and avid rock climber.
Ali Khademhosseini is currently the CEO and Founding Director at the Terasaki Institute for Biomedical Innovation. Previously, he was a Professor of Bioengineering, Chemical Engineering and Radiology at the University of California-Los Angeles (UCLA). He joined UCLA as the Levi Knight Chair in November 2017 from Harvard University where he was Professor at Harvard Medical School (HMS) and faculty at the Harvard-MIT's Division of Health Sciences and Technology (HST), Brigham and Women's Hospital (BWH) and as well as associate faculty at the Wyss Institute for Biologically Inspired Engineering. At Harvard University, he directed the Biomaterials Innovation Research Center (BIRC) a leading initiative in making engineered biomedical materials. Dr. Khademhosseini is an Associate Editor for ACS Nano. He served as the Research Highlights editor for Lab on a Chip. He is a fellow of the American Institute of Medical and Biological Engineering (AIMBE), Biomedical Engineering Society (BMES), Royal Society of Chemistry (RSC), Biomaterials Science and Engineering (FBSE), Materials Research Society (MRS), NANOSMAT Society, and American Association for the Advancement of Science (AAAS). He is also the recipient of the Mustafa Prize ($500,000 prize) and is a member of the International Academy of Medical and Biological Engineering, Royal Society of Canada and Canadian Academy of Engineering, and National Academy of Inventors. He is an author on >650 peer-reviewed journal articles, editorials and review papers, >70 book chapters/edited books and >40 patents/patent applications. He has been cited >74,000 times and has an H-index of 139. He has made seminal contributions to modifying hydrogels and developing novel biomaterial solutions for addressing pressing problems in healthcare. He has founded 2 companies, Obsidio Medical and Bioray. He received his Ph.D. in bioengineering from MIT (2005), and MASc (2001) and BASc (1999) degrees from University of Toronto both in chemical engineering.
Moderator:
Jenny Chen, MD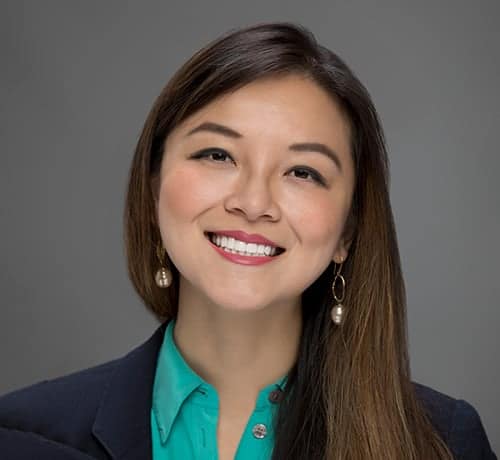 Jenny Chen, MD, is currently the Founder and CEO of 3DHEALS, a company focusing on education and industrial research in the space of bioprinting, regenerative medicine, healthcare applications using 3D printing. With a focus on emerging healthcare technology, Jenny invests in and mentors relevant startups, especially companies pitching through Pitch3D. She believes a more decentralized and personalized healthcare delivery system will better our future.