After our first successful event (thanks to our community manager Dr. Justin Baker), we are ready for the second 3DHEALS community event in Cleveland, Ohio this October. Thanks to our venue sponsor Team NEO (Team NEO is a business development organization focused on accelerating economic growth and job creation throughout the 18 counties of Northeast Ohio.)
Date: October 17th, 2019
Time:
6:00-8:30 PM
Location: Team NEO Office
1111 Superior Ave 4th Floor Conference Room
Cleveland, Ohio 44114
Agenda:
6:00-6:30 PM Networking/Registration
6:30-6:45 PM Sponsor Opening (Melinda McNutt-TeamNEO, Jenny Chen-3DHEALS, Robert Joyce – FibreTuff)
6:45-6:55 PM Adam Clark (Tangible Solutions)
6:55-7:05 PM Sam Onukuri (JNJ)
7:05-7:15 PM Edward Herderick (Ohio State University)
7:15-7:25 PM Karl West (Cleveland Clinic)
7:25-7:45 PM Panel Q&A (Moderated by Jenny Chen)
7:45-8:30 PM Networking and Wrap-up
Arrival Directions:
– The building locks at 6 pm, so you must enter at the front of the building located on the corner of East 12th and Superior Ave.
– Someone will be standing by to greet you and let you into the building. If you need assistance, especially if you arrive late, please text us at 440-855-9097.
– The event will take place in the 4th-floor conference room.
Parking Information:
– Metered parking is free after 6pm and is available along East 12th Street.
Speakers:
Dr. Edward D. Herderick serves as the Director for Additive Manufacturing at the OSU Center for Design and Manufacturing Excellence (CDME). His team is leading a research program including industrial metal printing, biofabrication, and biomedical printing activities. He has held AM leadership positions at GE, Avon Lake AM startup rp+m, and EWI. He received his PhD in MSE from OSU. In addition, Ed serves as the Industrial Editor for JOM and is the industry chair for the 2019 International Society for Biofabrication meeting in Columbus.
---
Karl West is Cleveland Clinic's Director of Medical Device Solutions (mds.clevelandclinic.org). Mr. West has been innovating at the Cleveland Clinic since 2002 and is an expert in medical device design with a concentration in aortic replacement devices and image guidance. Mr. West has extensive experience developing a variety of novel medical devices with 17 issued patents and 8 pending patent applications. As the inventor of the surgical guidance system called IOPS, he led its development and continues to drive the commercialization through a Cleveland Clinic spin-off company called Centerline Biomedical (centerlinebiomedical.com). He is also the inventor of a holographic guidance system for non-vascular surgical procedures with a primary focus on microwave tumor ablation and this technology has been licensed to a startup company call MediViewXR. Mr. West has a Bachelor's degree in Mechanical Engineering from Ohio University and a Master's in Physics from John Carroll University. He is also an Adjunct Instructor at Cleveland State University in the Department of Biomedical Engineering and Adjunct Assistant Professor of Molecular Medicine at Cleveland Clinic Lerner College of Medicine.
---
Adam Clark is CEO and President of a Nationally Recognized Contract Manufacture of 3D Printed Titanium Implants, Tangible Solutions. Tangible Solutions provides large-scale precision Additive Manufacturing solutions to the Orthopedic Implant Industry.
After an accomplished career with the US Army as a Green Beret, Mr. Clark worked in Human Performance & Productivity programs as a Contractor for the Department of Defense. Eventually, his path led to the medical industry becoming a founding member of Tangible Solutions, a Contract Manufacturer of 3D Printed Titanium Orthopedic Implants. Clark became CEO of Tangible Solutions in 2016.
---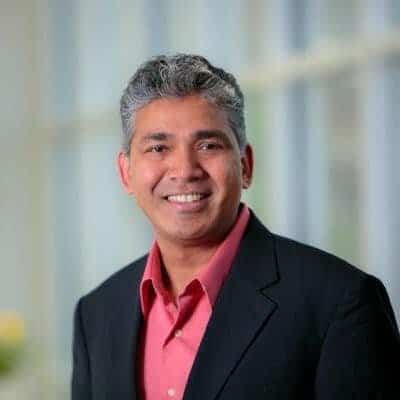 As Head of the Johnson & Johnson 3D Printing Center of Excellence, Sam Onukuri is responsible for integrating 3D printing technology across the J&J Enterprise. He and his team of dedicated engineers drive new materials, processes and software technologies to evolve the business model from what has historically been a product-orientated to a solutions-orientated business model at the point of care. Sam works closely with J&J leaders in Supply Chain, R&D, Commercial, Quality, Regulatory, Legal, and IT across all segments to execute multiple front-end pipelines of technologies related to 3D printing and net-shape technologies.
Developing a network of over 50 external partnerships, J&J is emerging as one of the leaders in 3D printing resulting in product design freedom, consumer and patient-specific product personalization, speed to market, supply chain transformation and materials innovation.
Sam has over 25 years of experience in medical devices and an extensive background as a metallurgist and in material sciences. Other J&J roles include Advanced/Front-end Technology leadership for J&J Medical Device and Senior Fellow Engineer within the Ethicon family of companies. Prior to J&J, Sam worked at General Electric and Baxter Healthcare. He is based in Cincinnati, Ohio at the Ethicon Campus.
---
Dr. Jenny Chen is trained as a neuroradiologist, founder/CEO of 3DHEALS, a company focusing on curating healthcare 3D printing ecosystem. Her main interests include medical education, 3D printing in the healthcare sector, and artificial intelligence. She is also a current adjunct clinical faculty in the radiology department at Stanford Healthcare.
Robert Joyce is the President and Founder of FibreTuff a developer of cellulose fiber with thermoplastic compositions for 3D Printing, Molding, and Extrusion. In 2019, FibreTuff has commercialized 3D printing biomaterials for both FDM and SLS methods to produce the most advanced "bone-like" anatomical models. These models have the look and feel of bone with radiopacity, excellent screw retention, and cutting and sawing capability. Customers have included Universities, Medical Centers and Hospitals in North America and in Europe.
Robert Joyce has two college degrees. An associate from Macomb College and bachelors from Ohio University. He is a frequent speaker at biopolymer conferences. Including International BioComposites Symposium, Society of Plastic Engineers, Society of Manufacturing Engineers and Forest Products Society.
Sponsor: